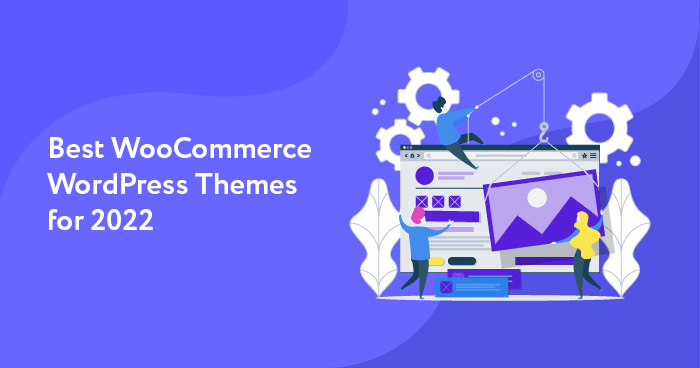 WordPress has become the leading content management system used by businesses, professional bloggers, entertainment companies, and educational institutes. Why? Because it has a user-friendly interface without countless themes and plugins to make your experience easier.
For people who want to start an online store, WooCommerce is an amazing platform and simple plugin that can be installed on WordPress. There are several themes that are specially designed for WooCommerce. They allow the users to reap the benefit of this plug-in while making their website visually appealing.
If you are looking for some attractive yet practical themes for your WooCommerce website, then you are at the right place.
What to Look for in Woocommerce WordPress Themes
When looking for a Woocommerce WordPress theme, you need to keep a few key factors in mind. Here is a brief guide on how to choose the best theme for your store to boost your sales:
User-Friendly Interface
You need to choose a theme that is easy to use and allows fuss-free navigation. Imagine a customer logging on to your website and spending hours finding the required item. It will only make your customers run away and look for a better and easier option.
Make sure you have an accessible menu, easily reachable search bar, and other navigation aids for an amazing user experience.
Simple and Clutter-Free
Another thing that you need to look for is a clean and minimalistic design. It is a misconception that people need to see all your products on the homepage to get attracted to your brand.
You can simply add two to three best images of your products and let the customer search for the rest. It will keep your website visuals simple and easy on the eye. Since this era is all about modern and minimalistic designs, your e-store might catch more attention.
Mobile Responsive
These days, most people shop from their phones or tablets. So, make sure the theme you select is mobile responsive. Your e-store should display all the graphics and navigation options on all sizes of screens.
No matter what device your customers are using, they should be able to have an easy shopping experience. If your website lags and crashes on smartphones, you are more likely to lose a lot of potential customers.
Fast Speed
No one likes to wait hours just to load a single page on their device. Opt for lightweight themes that allow fast loading of the page so your customer can scroll through your products or services.
A fast-speed ecommerce store will result in a good user experience, making them return to avail of your services. The experience your customer has at your store also plays a major part in increasing the chances of their return.
Compatibility with Plugins
Lastly, your theme should be compatible with different WordPress plugins that can help make your website more efficient. This way, you can add more features to your website to improve your customer's experience.
It also automatically increases the functionality of your store, so you don't have to manually change the settings at each order.
12 Best Woocommerce WordPress Themes for Online Businesses
We have compiled a list of the best Woocommerce WordPress themes to check out in 2022.
Free Woocommerce Themes for WordPress
There are several free Woocommerce themes for WordPress that you can use as a start up. They are as good as the premium ones with countless features to make your e-store more efficient. Here are the top few free WordPress themes:
Astra
One of the best Free Woocommerce themes is Astra. This lightweight WordPRess theme is specifically designed to make your online store more efficient. It provides quick product review and easy scroll so your customers can browse for everything they need.
The simple interface allows the user to stay focused and find their desired product with ease. It has clear grid options so your products are displayed in an organized manner rather than being scattered all over the page.
The best part about it is that you don't have to spend a single second writing the code for your website. It also offers an easy yet elaborate checkout option for your customers so they can easily shop for what they want.
Sabino
If you have a health, fashion, or lifestyle store then Sabino is the best option for you. It has clear yet inviting visuals that are ideal for clothing and beauty-stores.
This theme allows you to display your header and footer image without over burdening the page. It also comes with custom page templates so you can customize your store as much as you want.
The live WordPress customizer and page builder option allows the customer to build the recommendation page according to their searches. It is preferred by most online stores because of its compatibility with various WordPress plugins and add-ons.
Botiga
A clean and contemporary Woocommerce WordPress theme, Botiga is specifically designed for modern brands that allows you to display your product in a neat grid. With this theme you can customize your web-store as you like and display your featured products on the homepage.
You can showcase your popular products using their clean grid options. They have several gallery layouts so your catalogue defines the quality of your brand. In addition, this theme is compatible with desktop and mobile screens both.
Shopstar
The Shopstar theme is famous for its minimalist and contemporary look. It is ideal for luxury brands that want to put more focus on the design and look of their product rather than the website's layout. It is highly responsive on all sizes of screens, making it the best for on-the-go shopping experience.
The white background allows the main focus to be on your brand. It is also a great option for fashion blogs selling different products through affiliate links. The customizable category option allows an organized display of your products.
It also features social media options on the top to allow easy access to your Facebook, instagram, and Twitter.
Woostify
Businesses who want to display their deals and packages on their homepage can opt for Woostify to ensure the best experience. It is the most fuss-free theme that is compatible with many e-commerce WordPress themes.
It also supports the wishlist plug-in that keeps your customer coming back when their favorite product is back in stock. You can also choose different video gallery options and add SEO options to rank your website on top.
This theme is lightweight yet powerful enough to support graphics, plugins, and add-ons. It has a fast speed that will ensure an easy shopping experience for your customers.
Neve
If you are looking for a modern theme that displays the graphics of your brand from edge to edge, you might to check out Neve. It is a lightweight yet versatile theme that is ideal for all kinds of devices. It is currently the most downloaded theme in the WordPress directory because of its various customization options.
Neve also offers a Pro option for their users who want to switch to the premium version of this website. Even if you have the free version, you can access almost all the features. It is highly compatible with WooCommerce plug-in and facilitates easy shopping experience.
Tune out the homepage layout with its advanced customizer option to make sure your website looks exactly how you like. Enhance your website with more plugins to further customize your store.
Premium Woocommerce Themes for WordPress
If you want to upgrade from free WordPress themes then go for a premium theme with vast customizing options. Here are the best premium WooCommerce WordPress themes that you can consider:
Divi
Divi is a smart WordPress theme that has easy customizing options. With a variety of text options, fonts, and gallery options you can make your website look exactly how you want. It also has several product filters so your customers can search for the exact product they are looking for.
The pre-made, efficient designs allows you to have a fully functioning website without coding. It also has a modern background image option to display your latest deals, featured products, and new launches.
With Divi, you can access hundreds of WooCommerce layouts to keep building your online store. It has a responsive design that your customers can view on smartphones, tablets, and desktop.
Shoppe
With just a few clicks, you can design a high-quality website using Shoppe. It is a multipurpose theme for different kinds of businesses, with complete customization options. The gallery slider and video option makes it visually attractive for your customers.
It allows multiple page scrolling options without lagging and crashing because of its lightweight system. Other than that, it has a product share option, wishlist, quick cart, and image zoom option.
The drag and drop builder allows easy customization. It is also called a one-click demo content importer to see how your website looks with different graphic options. This theme keeps updating with new trends in the market with 7+ eye-catching skins.
Artcraft
For people who have an artistic business, Artcraft is the best theme to try. It features boutique style graphic options, fonts and layout that attracts your customers instantly. The Elementor option on this theme allows you to easily edit WooCommerce pages along with creating product archive templates.
It features a simple, clean and responsive design that your customers can access on desktop, tablet, and smartphone. With easy navigation options and an accessible menu bar, the users will be able to search for their desired products without a hassle.
Homestore
Homestore has a conventional header and main graphic option which makes it perfect for department stores. Your customers can easily access all the products with infinite scrolling options and multiple mega menus.
The theme is compatible with WooCommerce and other plugins. The color choices, easy checkout, and sub categories are also available for the ease of your customers.
Homestore is a storefront child theme so it adapts the features from its parents themes. In short, it is a minimal, simple, clean, and multipurpose theme with different layout selections.
Flatsome
With a clean and simple layout and multiple page options, Flatsome can be an ideal theme for new businesses. It is one of the best premium WordPress themes that you can get at an affordable cost. This trendy yet simple design can be fully customized to suit the needs of your brand.
The best part about this theme is that it offers translating options so your website content can have a global reach. It offers 5+ homepage options, a powerful mega menu, shopify section, and multi header/ footer options. This theme is ideal for lifestyle and clothing stores.
Shopkeeper
A fully responsive theme for all kinds of businesses, Shopkeeper is the best option to consider. It has an easy drag and drop builder that helps you customize your page without any coding. If you want to upgrade from Woocommerce Themes for Free, then this is the easiest option for you.
It supports youtube videos in the gallery so you can display a trailer of your products or services. The variety of text options and fonts is ideal for a visually appealing website layout.
Conclusion
With these Woocommerce WordPress themes, you can instantly upgrade your online store. If your store is visually appealing, easy to navigate, and fast, users can come back for more.
Keep your online business goals in mind and choose the theme accordingly. Make sure it complies with your brand and your budget as you don't want something that doesn't suit your requirements.
Best of all, these themes are fully compatible and supported by our WooCommerce Plugins, including the popular XT Floating Cart for WooCommerce, that will improve customer buying experience and encourage them to click the "checkout" button.
Having an interesting yet practical theme will not only increase your sales but will also make updating and customizing your website easier. So, what are you waiting for? Download the best WordPress WooCommerce theme and give your store a makeover!