Woo Points & Rewards is a WooCommerce extension that lets you build customer loyalty by rewarding their purchases with redeemable points based on multiple actions.
---
As a store owner, customer loyalty is important to you. Customer loyalty leads to repeat sales and, ultimately, a satisfied customer. As individuals, we enjoy the feeling of receiving "something for nothing". If I can spend on a product now and earn a discount which I can redeem at any future purchase, I'll be more inclined to make the purchase.
Customer loyalty leads to repeat sales and, ultimately, a satisfied customer
How do we, as store owners, incentivize customers to purchase with us again?
This incentive is a three-part operation; selling a great product or service, ensuring a pleasant purchasing experience, and rewarding customers for purchasing from your store. You already offer a great product or service and your store already offers a pleasant purchasing experience, so what about the reward?
Woo Points & Rewards plugin for WooCommerce enables your store to offer loyalty points for purchases or for certain other actions taken by your customers on your online store (such as signing up for an account, reviewing a product or when it's your customer's birthday). You decide how many points are awarded for each Dollar (or other unit of currency) spent, and how many units of currency each point converts into when redeemed.
Your customers can view their points history within the My Account screen, as well, for easy access and for planning how they can use their points for their next big purchase with your store. If this does not increase your sales, I am not sure what will!
---
Reward Customer Purchases With Points Redeemable For Discounts!
Reward your customers for purchases and other actions with points that can be redeemed for discounts. Easily set how many points customers should earn for each dollar spent and how many points can be redeemed for a specific discount amount. Points can be awarded by product, category, or global level, and you can also control the maximum discount available when redeeming points.

Features
Define how many points are earned for purchases, and the value of points for discounts.
Control the maximum discount that can be earned using points at the cart, category, or product level.
Award points for actions like signing up or writing a product review.
Apply points earned to all previous orders so customers can start redeeming points for discounts immediately.
Quickly adjust the points balance for a customer.
View a log of all points changes made for customers
Earn Points for Purchases and Actions
Points are earned for purchases based on the conversion rate you set. For example, customers could earn 1 point for every dollar spent. This conversion rate can be overridden at the category or product level, so you can encourage customers to purchase specific products. Points earned are displayed on the product page and on the cart/checkout page.
Redeem Points for Discounts
Customers can redeem points for discounts based on the conversion rate you set. For example, 100 points could be worth a $1 discount. You can set a maximum discount at the cart, product category, or product level that will limit the discount available.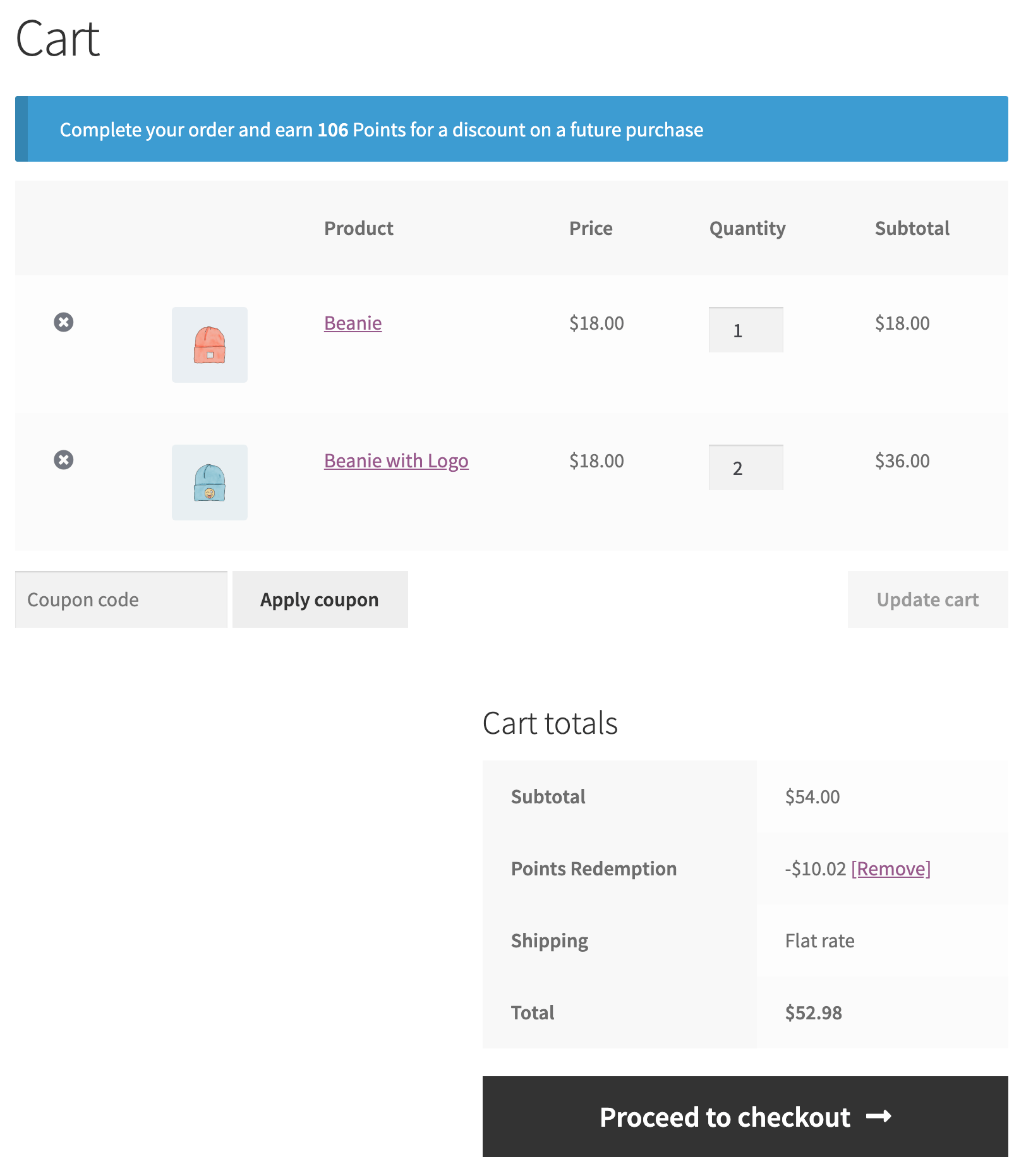 Manage Customer Points
Powerful Customization