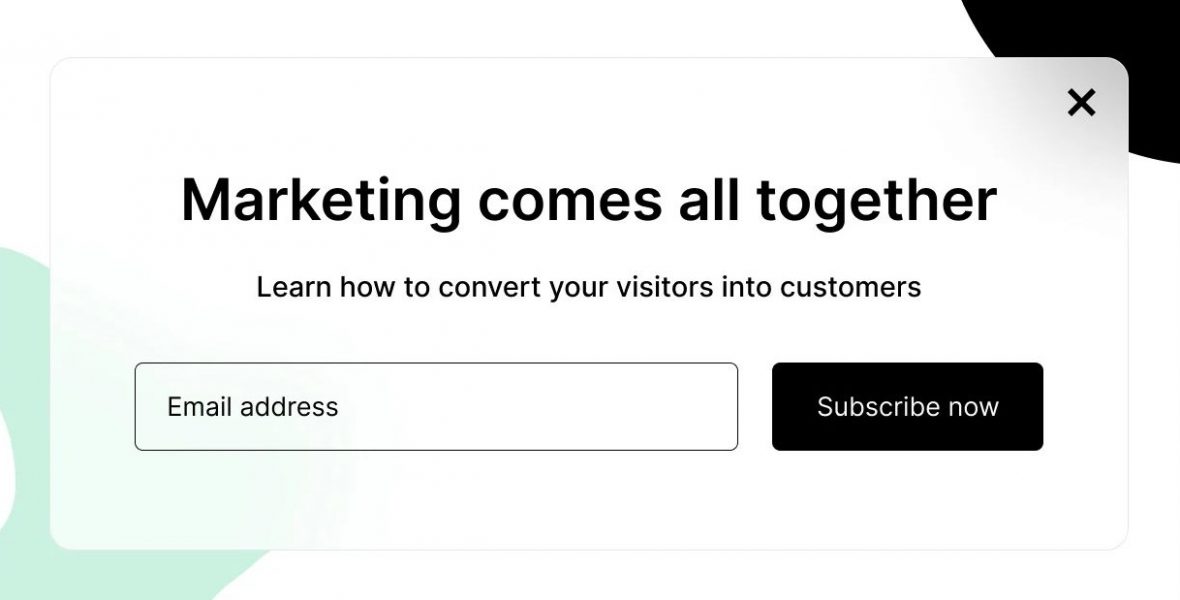 What is a subscription popup?
I am more than sure that anybody surfing the web has seen popups more than once. But what is a popup?
A popup is a box that pops up, simply put, appears when you are browsing a website. Coupons and discounts, special offers, lead generation, and email marketing are just a few of their uses.
The subscription popup is the most popular form of popup. Otherwise, it is called a newsletter or email popup. Just by adding an email form to any type of popup, you can simply turn it into a subscription popup. Mostly they are created to build email list, get more subscriptions, and capture leads. All of this is done with just one simple popup box! That is the most perfect thing about an email subscription popup.
Besides being the best way to build an email list, subscription popups are a helpful tool for collecting user data such as age, name, phone number, country, and more.
Finally, WordPress email pop up on website is not going to cost you money! Most of the tools for creating best email pop ups are available for a very reasonable price, so you can just pay once for a tool, and use it hundreds of times.
How effective are they?
In general popups have a negative reputation since many websites employ them without taking into account the user experience. That's why lots of people can consider them annoying. Truly, it doesn't reduce their effectiveness. So, should a website run pop-up ads?
Let's take a look at some statistics that show that email/subscription popups։
Drive traffic to your product and landing pages.
Increase sales and brand awareness.
Spread information about upcoming events, promotions, and discounts.
On one hand, a number of website owners discovered that using pop-ups increased email list opt-ins almost immediately. Pop-ups typically have greater click-through rates than other types of advertisements — usually approximately 2 percent.
On the other hand, the top 10 percent of pop-up boxes convert at a massive rate of 9.3 percent. Definitely, everybody understands what a 9 percent of conversion rate is. You can improve your site's rankings without any difficulty as well.
How to create a subscription popup on WordPress
When you know what a subscription popup is and how effective it is, you can start looking for the best tool to start your work. The tool is probably the most significant thing in this process. Even if you are professional enough in building them, lots of crucial things depend on the possibilities that your instrument is giving you.
Let me introduce to you the WordPress Popup Plugin, which can become the best solution. Popup Box has a variety of ways to display or close, as well as custom and unique styles and restrictions. Popup Box's main strength is not just its flexibility and mobility, but also its owners' exceptional customer service. Of course, you can check their YouTube channel, watch their easy and great tutorials, or make use of their blog and read their helpful articles. Even if you will not manage to find your answers, you can freely contact their customer support specialists.
So, let's already start creating your best popup boxes:
1. Go to the plugins and add new ones. Seach for Popup Box and install it. After the activation, you can find it in your left menu bar.
2. When you click on the plugin you will see different types of popups. Choose Subscription and then Select.
3. In the same way, select your theme. Here is what the process looks like.
4. Set up your general settings. Enable or disable popup, set title, popup position, write down the description, email field placeholder, and so forth. After making changes to each tab do not forget to save changes.
5. Choose your popup trigger. Here are the trigger options that Popup Box will give you.
6. With the help of the Settings tab configure popup opening, closing, and other advanced settings.
Popup opening will allow you to set:
Open delay in milliseconds.
Open by scrolling bar.
To enable the options set your desired values.
Popup closing will make it possible to:
Let users close popups.
Close the popup on scroll.
Hide the close button.
Activate the Close b while hovering on the popup.
Hide the set timer and more.
Advanced settings are helpful if you want to:
Set popup category.
Enable Social Media links
Enable actions while clicking on the popup.
Change the popup creation date and author.
Disable scrolling and so forth.
7. In the styles tab configure everything to the core. Change popup dimensions, set up content style, opening and closing effects, and animations.
8. Furthermore you can configure background, border, and button styles. You can change colors, height, and width, set border-radius, set a custom class for popup containers, and so on.
9. Popup Box plugin also allows you to write your own custom CSS code for the whole popup box.
10. The other unique and useful thing about the Popup Box WordPress plugin is the Limitation of users. Settings help you to limit your popup according to your preferences. The limitation of users allows you to use the following options:
Display popup once per user.
Display for logged-in users.
Hide popup on mobile.
Set view count for popups.
Display boxes for certain user roles.
Display for certain browsers.
Show popups only for certain operating systems.
Display or hide popups for guests.
Limit by country.
These options will be extra useful: you can control the process of showing subscription pop-ups to your visitors, so they will be more beneficial and less irritating for them.
11. The last tab you can use with Popup Box by Ays is the integrations tab. Here is the list of integrations that will be helpful:
Mailchimp
Campaign Monitor
ActiveCampaign
GetResponse
ConvertKit
Sendinblue
MailerLite
All of these integrations can be used in the pro version of the Popup Box plugin. They might make your work a lot more efficient and productive.
12. The last step is publishing your popup. Just go back to your quizzes list and copy the shortcode of the certain popup. Go to the posts and pages and paste the shortcode wherever you want. Everything is ready! Here you can check what kinds of popups you can create.
You can create an unlimited number of different popups, customize them and edit them even after publication. Besides, you are allowed to track the statistics of your popups and see how effective are they. Popup box gives you all possible opportunities starting from building something unique, to getting something extra profitable and effective. So follow all instructions above, and it will be easier than ever.
But that's not all…
Tips to create the most effective pop-ups
Now you have learned how to create an email subscription popup WordPress and found a great tool, that will make your work easier. Plus to it all we have prepared a piece of advice, you will know what to take into consideration while creating your pop-up boxes. So let's move forward.
Specify the best offer: You must first decide what sort of offer you want to show to visitors before you begin creating a pop-up for your website. This is a critical phase in the whole cycle.
Do not annoy your website visitors: Showing your popups, without knowing anything about them is not the best idea. Pay attention to the fact of what kind of visitors you are showing your popups and when. For instance, if somebody is your loyal customer and has already subscribed to your newsletter, you should never show him again the subscription offer. That will push him away, maybe forever.
Choose proper duration and time: If it comes to creating great pop-ups, time is of the essence. Your pop-purpose up's and the aim should be strongly linked with its timing.
Make use of large popups: Make your popups more visible and better highlight your products. The copy can be difficult to read since the colors conflict with the image. Your popup's call-to-action button is the most important factor. Make sure it's in the most visible and central place of your popup.
Do not forget about design: even if you are giving the whole information and considering the time when the popup is displayed, it is not enough. You should create something beautiful, but unique, try new shapes and suit subscription boxes to your website. In case they are not beautiful, nobody is going to pay attention to them.
Track your own statistics: When your pop-ups go live, your job isn't done yet. You'll need to track and assess their efficacy over time and make improvements depending on the outcomes. Whenever you publish a pop-up but don't meet the results you set or the statistics you expected, try creating a new one to see if you can prove to be more effective.
---
Hope the article was useful, and you will be able to create your best subscription popups. Increase the efficiency of subscription popups and remember that this knowledge may not entirely apply to every sort of website, so put these methods and suggestions to good use exactly for you. Take all the advantages of the best WordPress plugin, build an email list and increase your sales to the maximum!